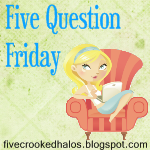 1. Did you make any fun purchases this week? I purchased some yummy truffles from Chocolate Fetish and I purchased a pretty big present for Nathan's upcoming birthday. I can't share what that is just in case he come's across this.
2. If you could go to any musical concert, what would it be? There's so many so I'll name a few Jeremy Camp, Sugarland, Taylor Swift, and Third Day.
3. What is your least fav/ most fav house chore? My least favorite is dusting(I sneeze & wheeze whenever I do) cleaning the toilet, and mopping. I liked washing Grayson's cloth diapers and putting dishes in the dishwasher.
4. Would you prefer new appliances or clothes? My appliances are still working so I'll say clothes. Now if I only had the money for said clothes.
5. Miracle Whip or Mayo? Mayo