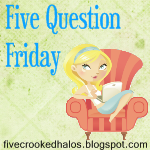 1. Vow renewal ceremonies-yay or nay? They're not for everyone but I think they are a great idea. I'd love to renew my vows to my hubby after 25 years of marriage. :)
2. What sound/s annoy you the most? Loud talking, whining...especially from adults, and loud chewing/eating.
3. If you had to pick, would you have only all boys, or only all girls for kids? I couldn't pick either because I'd love to have both.
4. Do you believe in alternative medicine? I believe there's a place for both.
5. Would you take a family member's children and raise them if they needed it? Absolutely. They're family and that's the way its supposed to be.